Dr. Prashant Gagneja, BDS, MDS
BOARD-CERTIFIED PEDIATRIC DENTIST
Meet Dr. Prashant Gagneja (lovingly known as Dr. G by his students and young patients.) He comes from the northern part of India, growing up in a family that cherished education and instilled in him a passion for lifelong learning. He has dental degrees from Punjabi University and a Masters in Dental Surgery (MDS) in Pediatric Dentistry from Guru Nanak Dev University.
Having completed his second residency (post graduate) in pediatric dentistry with UMDNJ/Rutgers in 2003, Dr. G began teaching as an assistant professor at School of Dentistry OHSU in Portland, OR, quickly rising to become the department chairman of pediatric dentistry in 2004, achieving this remarkable feat at the young age of 34.
Dr. G's dedication to his field was instrumental in starting the Residency Program in Pediatric Dentistry at School of Dentistry OHSU in 2005, leaving a lasting impact on the next generation of dental professionals. His passion and commitment earned him the board certification with the American Board of Pediatric Dentistry in 2006, further cementing his reputation as a leading expert in the field.
Not only is Dr. G an excellent educator and skilled practitioner, but his decade-long presence on the editorial board of the Journal of Pediatric Dentistry is a testament to his dedication to research and staying up-to-date with the latest advancements.
Many of Dr. G's former students and residents are now practicing dentistry across the country. As a parent himself, Dr. G understands the importance of creating a warm and friendly environment for young patients, making dental visits a positive and pleasant experience.
Outside of work, he loves photography, flying RC airplanes, movies, music, and reading books. He aspires to be a meditation teacher as well. He and Dr. Monisha Gagneja are proud parents of two sons and their furbaby, a black Lab named Mowgli.
With his warm heart, creative spirit, and vast expertise, Dr. Prashant Gagneja is the go-to pediatric dentist for parents looking for the best care for their little ones. Join our dental family and let Dr. G and our team ensure your child's smile stays bright and healthy!
BOARD-CERTIFIED PEDIATRIC DENTIST
Meet Dr. Monisha Gagneja, or as her patients lovingly call her "Dr. Mo." She is a highly trained pediatric dentist who brings warmth, compassion, and a wealth of experience to her dental practice.
With a background in general dentistry, Dr. Mo went back to school to specialize in pediatric dentistry at Oregon Health and Sciences University (OHSU, Portland, OR). She received her board certification from the American Board of Pediatric Dentistry in 2009.
In addition, she has completed two years of Progressive Orthodontics Seminars to expand her training in Orthodontics (dental braces) while having a very busy practice!
Previously, Dr. Mo worked at Willamette Dental Clinic and Gentle Dental in Vancouver. She was the founding dentist at Providence Specialty Dental Clinic for Children in Portland, OR, and served children with special healthcare needs for several years before starting her own private practice at Must Love Kids.
As a former faculty member at OHSU School of Dentistry, member and Fellow of American Academy of Pediatric Dentistry, Dr. Mo has presented at international dental conferences, was published in 2007 in the Journal of Clinical Pediatric Dentistry, a renowned pediatric dentistry journal, and she has also been featured in Physician's Scribe Magazine in 2012. She is affiliated with Legacy Emanuel Hospital and St. Vincent's Providence Hospital.
Dr. Mo has received numerous awards for academics, community services, music, art, and sports, and has presented at international dental conferences. Her passion for helping children extends beyond her practice and she participates in local community outreach programs and global health projects.
Dr. Mo says, "Working with children is a special joy that has taught me patience and unconditional love. I'm grateful to be able to make a positive impact in their lives."
When she's not working, Dr. Mo loves to paint, cook, sew, read, working out, being outdoors, and spend time with her loving husband (Dr. Prashant Gagneja), their boys, and their dog, Mowgli.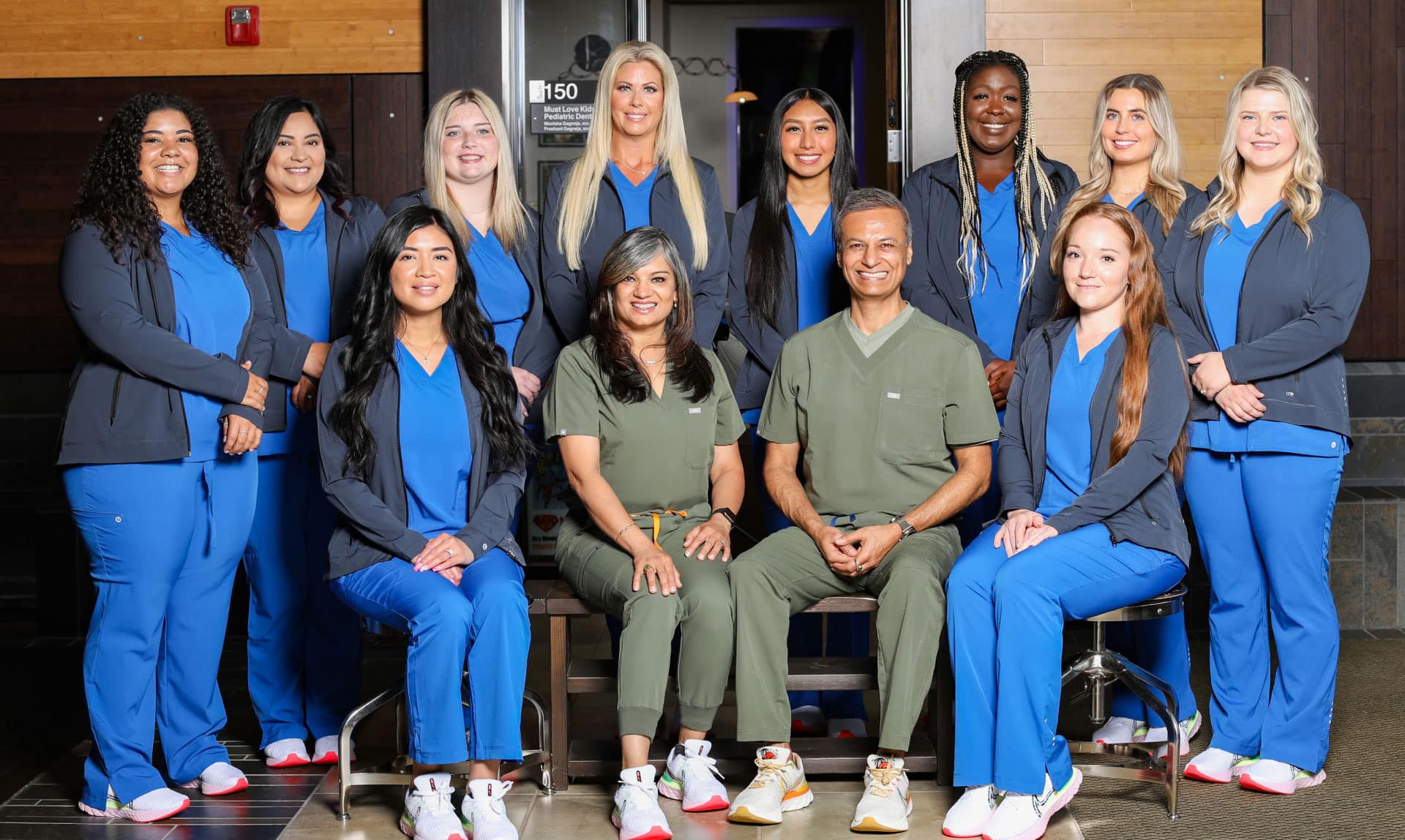 The home of super smiles and healthy teeth.
Children have particular dental needs, and their dental experiences in childhood will shape how they feel about going to the dentist later in life too. So it makes sense to see a pediatric dentist who specializes in dental care for kids. Must Love Kids® is that trusted partner in your child's healthcare, working to make every dental experience comfortable, enjoyable, and even fun! Our approach to caring for your child is focused on exactly that. We provide comprehensive pediatric dental care with a team that is highly accomplished, qualified, experienced, and full of compassion and care for our little patients.
Conveniently located in Vancouver, WA, we provide a full range of pediatric dental services from preventive care to orthodontic treatments and more. And, with Dr. Mo and Dr. G leading the practice, you can be sure your kids are in safe hands.
Stress-free dentistry for children of all ages.
Are you looking for a practice specializing in dental care for kids? Must Love Kids® is home to three board-certified pediatric dentists who can provide your children with the dental care they need. Book an appointment online for your child today or contact our friendly team.